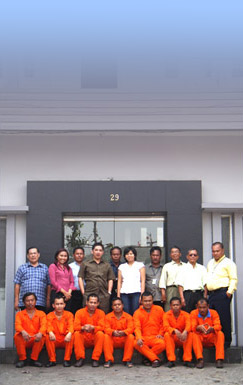 CV. KARYA CANDRA JAYA founded by Chandra Darmawan in 1972. Then his son, Rudy Chandra, was taking over all the business of ship chandling, which he already learning, practicing and have the skill on a personal hands-on basis.

Our company already stand for almost 34 years old and we also a member of International Ship Suppliers Association (ISSA) with the ISSA No. ID0004, and had good relation ship with many owners around the worlds in Europe, United States and also in Asia.

Our goals is to have good relationship with the Owners in worldwide by giving the best services, finest quality, and fairest prices

Our company provides all the categories such as Provision, Deck Stores, Engine Stores, Cabin Stores, Stationary, Paints, Lub Oil, Chemicals, Liferaft Servicing, and Marine Safety Equipment, Refill Oxygen, Acetylene, Freon, Charts, and Navigation Publications.